Latest Press Release From Frontieras! 4/27/2022

---
---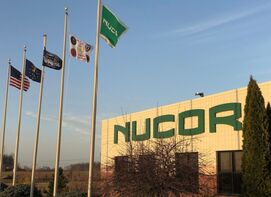 Job Opportunities & Inquires About NUCOR!
Interested in the great opportunities at NUCOR? Are you a vendor? Are you looking to start a career with the NUCOR Team? Check out the link below for further information.
www.nucor.com/westvirginia/
---

Frontieras North America is proud to announce the commitment from Frontier Applied Science (Frontieras) to build a state of the art FASForm Plant in Mason County!
Frontieras North America
, a subsidiary of Frontier Applied Sciences, today announced that it will construct its first FASForm™ plant in Mason County, West Virginia. Located in the heart of coal country, Frontieras' contracted site enjoys easy access to raw materials, a skilled workforce, as well as roads, Class 1 freight rail, and the Ohio River for import and export of feedstock and FASForm products. The Frontieras plant, which plans to complete construction and be commissioned in Q4, 2023, is expected to employ up to 500 employees and process more than 2.7 million tons of coal annually.
​
www.frontieras.com/news
---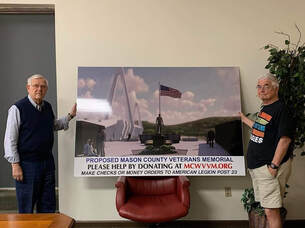 MCDA Director John Musgrave meets with local Veteran's Memorial organizers to discuss the upcoming Memorial planned for construction in Mason!
---
---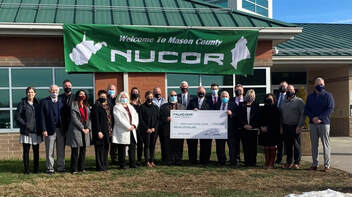 NUCOR Steel Coming to Mason County!
We at the Mason County Development Authority are proud welcome NUCOR Steel to Mason County, WV. This monumental accomplishment will bring a great economic boost to the community along with providing great paying jobs to those in Mason County and surrounding areas. Nucor has a long proud history of outstanding service to it's industry, clients, and its family of employees. We at the MCDA are proud to have worked with a variety of partners to make this great opportunity a reality. This $2.7 Billion dollar investment in Mason County will bring a brighter future to the community.
​
Related Articles
Office of the Governor Jim Justice of West Virginia
https://wchstv.com/news/local/steel-company-chooses-mason-county-as-site-for-new-mill
Point Pleasant Register
https://www.mydailyregister.com/news/70280/nucor-arrives-in-mason-co
The Herald-Dispatch
https://www.herald-dispatch.com/news/planned-steel-mill-game-changer-for-mason-county/article_ddba2bdb-0453-5240-98d6-30f3cfac3e7a.html
WVNEWS
https://www.wvnews.com/news/wvnews/nucor-corp-confirms-plans-for-sheet-mill-in-mason-county-west-virginia/article_a36890be-73d9-11ec-81b3-870d2d26d405.html
WCHS 8 / Fox 11 News
https://wchstv.com/news/local/steel-company-chooses-mason-county-as-site-for-new-mill



---
---